How to set Auto Logon for the
Windows XP Welcome Screen
The Windows XP welcome screen first appears when you turn your computer on right before logging into your desktop. By default, your computer should auto login if you are the only user account created in your computer and if you have no password created for the account. If you have a password, then your computer simply won't take you straight to your desktop but it will stop at the welcome screen so you can type in your password. This is what I call "normal behavior".
There is a Microsoft Windows update that came through in 2009 that changed this behavior. It would no longer auto log into your desktop even with no password created in your account. Instead, it would stop at the Windows XP welcome screen. Then you would click on the account to log into your desktop.
The good news is you can force Windows to auto login by following a simple command and re-establish the normal behavior of the computer and also save you time login into your desktop.
Auto logon welcome screen for Windows XP
1. Click Start, and click Run.
2. In the next window, type the following: control userpasswords2. Click OK.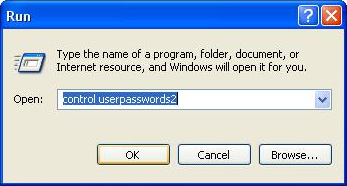 3. Next continue with the following steps:
a. select the account you are logged into (in this case it is "mrangel01").
b. uncheck the box at the top (the accounts from step "a" will gray out. Don't worry).
c. click OK or Apply (another window will open, see below).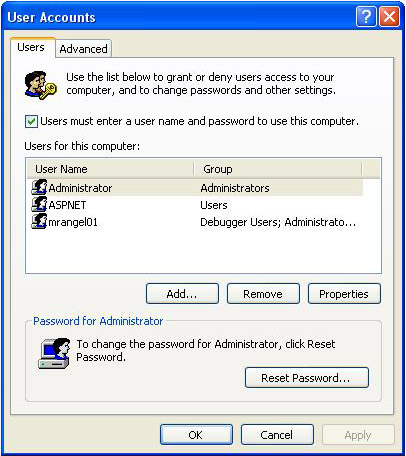 4. If you followed step 3 above in the order I gave you, you should now have the right user name box filled in. At this point since we are trying to force Windows to auto login (what I called "normal behavior") you should be able to click OK leaving the password boxes blank.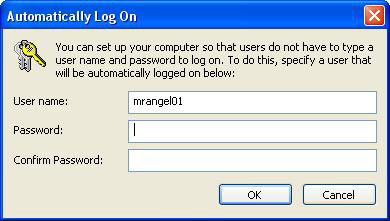 If your account was password protected, then you must type in your password. However, if you have an account with a password, it make no sense to make it auto login since it defeats the purpose of the password protection. Nevertheless it is still possible to do it.
Return to home page

Return from Windows Xp welcome screen to free computer help