Understanding The Recycle Bin
---
The recycle bin is a virtual trashcan where all your deleted files and folders are tossed into. By default, Microsoft Windows uses 10% of available disk space to save files so it functions as a temporary storage location. This means that as long as deleted items remain in there, you can always browse through them and restore them back to their original location in case they were deleted by accident or if you decided you needed them again. This gives your files a layer of protection from complete deletion.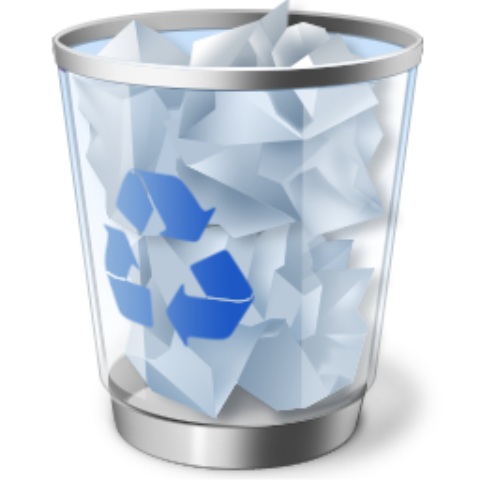 Accessibility of items in the recycle bin
Items in the recycle-bin cannot be accessed unless restored back to their original location. You can restore them by double clicking on the trashcan icon. This will open a new window, and then select the files and/or folders that you want to restore. After selecting them, right click on the files and select the option Restore.
The recycle-bin resides by default on the desktop of the operating system. In Windows OS you can choose to hide the icon or show it.
To show or hide the icon on the desktop
Go to the Start button, click on Control Panel, click on Appearance and Personalization, and then click on Personalization.

In the left pane, click on Change desktop icons, and then select or deselect the Recycle-Bin option.

Click OK.
This option for showing or hiding the recycle bin is not available for Microsoft Windows XP. Only Microsoft Windows Vista and 7 have the option.
Advantages of the recycle bin
Deleted files or folders are temporarily stored there.

Functions as a safe for items are deleted by accident.

You can restore deleted items to their original location.

Items remain in there until you restore or dispose of them.
Only items (files and folders) that are originally residing or stored within the operating system will go to the recycle-bin layer if you delete them. Items from an external storage media device such as a network drive, external hard drive, USB memory, etc., will not go to there if you delete them. This is important to know because you won't be able to restore them back if this happens, so make sure to delete items that you absolutely don't need again.
Empty the recycle bin
The recycle-bin takes hard drive space. This doesn't mean that you have to empty it but it's good to remember when you're cleaning your computer to clear out space.
To empty the recycle-bin, right click the icon and click the "Empty Recycle Bin" option.
Return from understanding the recycle bin to computer basics
New!

Comments
---
Did you find this page useful? Leave your comments below.